Take a look into the manufacture of tourist trains
Perfect craftsmanship, cooperation with leading manufacturers of components, high technical level, functional details, and the emphasis on safety – these are the fundamental pillars we rely on when manufacturing the tourist trains. The manufacture takes place in our two workshops – in Bílovice and in Zdětín in Prostějov district.
A dream about the train is born on paper
The first step is to find out the customer's vision about what he expects of the train, what it should do, what it should look like. On the basis of this vision and after consideration which train would be suitable for the given location, we recommend the best model from our offer. If the customer has any special wishes and requirements, the designer adjusts the project so that the finished train meets the requirements of the given operation and the customer can use it according to his wishes. Each train manufactured in our workshop is custom-made.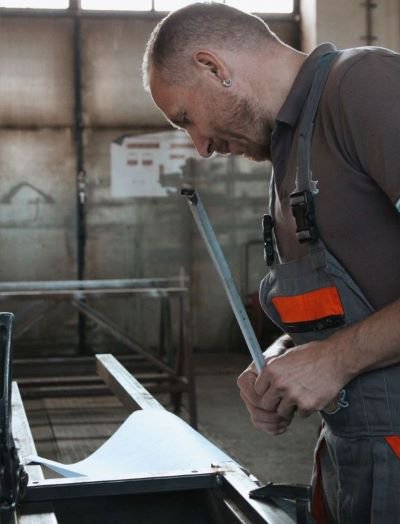 Iron is of the essence
The construction of the train is made of steel and it is designed for the required load and assembled by certified welders. The finished steel construction is then sheathed (we mount the sideboard and the roof) and we begin to work on its surface treatment.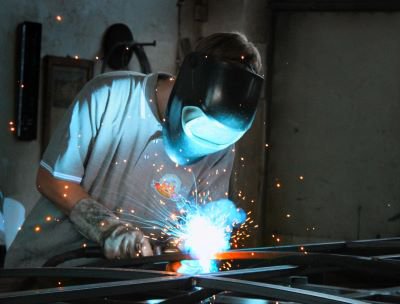 Colours make the train
First, we sandblast the steel construction and then smooth out and grind the uneveness. Then everything is ready for the colour paint spray. Normally, the customer chooses from two colours which can be freely combined. We can also put special foil stickers with the imitation of animal fur, or to make the so-called air brush which gives the train unusual appearance.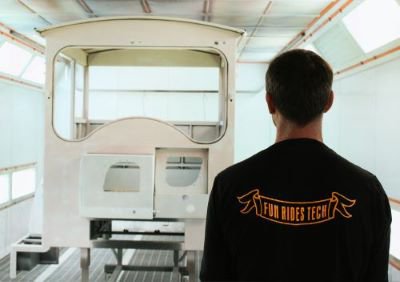 It will not run without engine and wheels
For each train model we choose a chassis from a suitable vehicle (truck, tractor, off-road, small tractor etc.) and we install the body of the machine on the chassis. We fasten the axles on the wagon's frame and continue with installation of wiring and air over hydraulic braking system.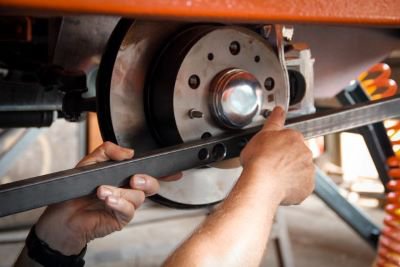 To make a train a train
The locomotive needs a dashboard and a seat, the wagons need the floor and seats. In some models we also install doors with locks, upholster the ceilings and glaze the windows. Every customer can choose from a wide range of additional equipment which includes for example, adjustment for disabled persons and baby strollers, electronic doorstep, diesel heating, roof windows, advertising boards, bicycle racks or ski racks and many others.

Details for safety and comfort
In the last phase of the manufacture, we fine-tune the details, we equip the train with safety features and test the train. The final step is cleaning of the interior and polishing the bodywork so that the customer is perfectly satisfied.